Hotelier Indonesia
NEW YORK, 8 April 2017 /PRNewswire/ -- Nobu Hospitality dengan gembira mengumumkan pembukaan Nobu Ryokan Malibu, hotel pertama dalam jaringan Ryokan Collection milik Nobu Hospitality pada 28 April 2017 . Terletak di sebelah Nobu Restaurant Malibu dan begitu menyatu dengan garis pantai California yang elegan, Nobu Ryokan Malibu akan mempersembahkan tempat bersantai modern serta layanan istimewa bagi para tamu dengan desain bergaya Ryokan.
Terletak di atas Carbon Beach yang terkenal di sepanjang Pacific Coast Highway, Nobu Ryokan Malibu mengalami perombakan total dari motel kuno tahun 1950-an menjadi tujuan liburan yang eksklusif. Hotel dua lantai tersebut menyediakan 16 kamar yang dirancang secara unik, menawarkan pemandangan menakjubkan dan halaman yang langsung menghadap ke laut serta taman berisi beragam tanaman khas California .
Konsep desain yang dipikirkan dengan matang mampu menyeimbangkan arus energi, warna-warna netral dan bahan-bahan organik, hasil karya arsitek dari Studio PCH dan Montalba Architects dan perancang dari TAL Studio, Shawmut Design and Construction,C.W. Eisner dan Nikita Khan . Bahan-bahan alami, kaya, dengan warna-warna khas kayu jati, perunggu dan batu kapur digunakan di seluruh desain interior dan eksterior, menyalurkan keindahan minimalis khas motel Jepang tradisional, sambil tetap menonjolkan nuansa santai yang identik dengan California .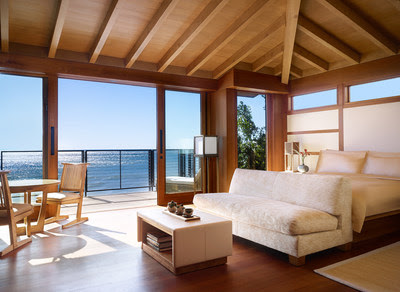 Setiap kamar dirancang khusus demi menyediakan pengalaman menginap istimewa bagi tamu dan menghadirkan saat beristirahat yang nyaman, menggabungkan pemandangan alami California dan elemen desain khas Jepang seperti tikar tatami , dinding dari batu kapur berwarna pasir dan bak mandi buatan tangan berbahan kayu jati.
Tamu hotel dapat menikmati hidangan istimewa dan preferential reservations di restoran kenamaan Nobu Malibu milik Chef Nobu, yang terletak di samping hotel, serta menu hidangan yang dirancang khusus dan dapat diantar ke kamar. Fasilitas tambahan termasuk kolam renang luar ruangan seluas 37 kaki (11 meter) yang menghadap ke Samudera Pasifik, akses ke Carbon Beach, ruang kebugaran ( fitness room ), akses ke Malibu Racquet Club dan geladak yang tenang untuk bersantai.
Memberikan warna khas Omotenashi , seni keramahtamahan ala Jepang, hotel yang terletak di Malibu ini dengan apik menghadirkan nuansa unik dan keseimbangan sempurna dari kemewahan, kegembiraan, kerajinan tangan dan ruang yang digemari para tamu di seluruh dunia. Jaringan Nobu Ryokan Collection terdiri dari sejumlah hotel eksklusif yang berlokasi di daerah wisata eksotis dan berbagai kota penghubung ( gateway cities ) tempat tamu mencari tempat istirahat yang mewah dengan lingkungan yang nyaman. Tempat bersantai ini mempersembahkan layanan istimewa dan berbagai produk mewah yang dirancang dengan gaya otentik terinspirasi Ryokan.
Anda dapat memesan kamar di Nobu Ryokan Malibu melalui laman
www.noburyokanmalibu.com
.
Tentang Nobu Hospitality
Masuk dalam jajaran Luxury's 25 Most Innovative Brands yang dirilis oleh Robb Report, Nobu Hospitality menjadi salah satu dari sejumlah merek mewah berkelas dunia. Industri perhotelan Nobu yang tumbuh secara alami berkat layanan, citra, dan reputasi, menawarkan pilihan lengkap yang terdiri dari hotel dan restoran untuk berbagai kegiatan di seluruh dunia. Dimiliki oleh Nobu Matsuhisa , Robert De Niro , Meir Teper dan James Packer , dengan jaringan yang tersebar di lima benua, merek Nobu hadir di kota-kota besar di seluruh dunia, menawarkan pengalaman gaya hidup yang istimewa. Nobu Hotel pertama kali dibuka pada 2013 sebagai boutique hotel di dalam Caesars Palace Las Vegas dan sesudah itu meraih predikat Hottest New Hotels dari CNN Travel, Top North America Hotel Opening dari Luxury Travel Advisor dan kemudian Luxury Travel Advisor's Award of Excellence . Nobu Hotel City of Dreams Manila diluncurkan pada 2014 dan Nobu Hotel Miami Beach pada 2016, diikuti Nobu Hotels di London , Malibu, Ibiza, Marbella,Riyadh , Los Cabos, Chicago , Toronto , dan Bahrain. Nobu secara strategis berfokus untuk mengembangkan lebih lanjut portofolio hotel yang mendunia melalui kinerja pengembangan yang berkesinambungan.