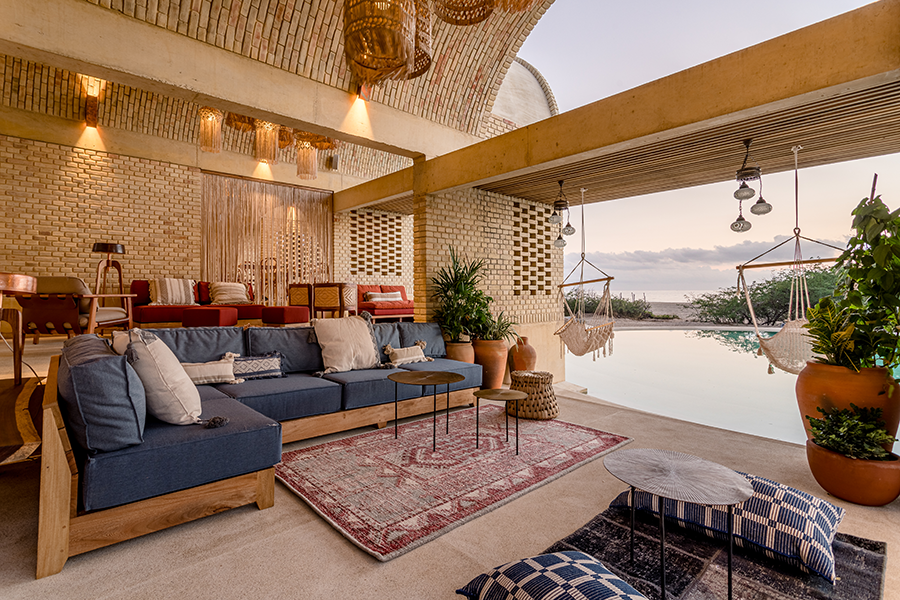 Located on Mexico's Pacific coast in Oaxaca, Casona Sforza has debuted as an inviting sustainable concept accentuated by its surrounding natural splendor. Mexican architect Alberto Kalach crafted the hotel's unique style, which draws inspiration from the traditional vernacular and is characterized by asymmetric volumes with clean lines seamlessly blur into nature. "Casona Sforza's project comprises asymmetric volumes with clean lines that are harmoniously integrated into the landscape and make use of the ancient techniques of arches and vaults," Kalach says.
Sandy hues adorn sunny interiors to reinforce the allure of the nearby coast, views of which are framed in the hotel's grand corridor. Concentric forms characterize the pool and terrace as well. Eleven elevated suites in junior, senior, and master configurations evoke a cozy residential-style ambiance balanced with a bohemian ethos of neutral colors, tropical woods, and nature textures. From hammocks to palm lamps, furnishings sourced from a variety of regional artisans promote Mexican craftsmanship in both public and private spaces. Décor from the Oaxacan highlands, including ceramics, also populate the interior to artfully instill a sense of place.
The post Casona Sforza Hotel Debuts in Oaxaca appeared first on Hospitality Design.