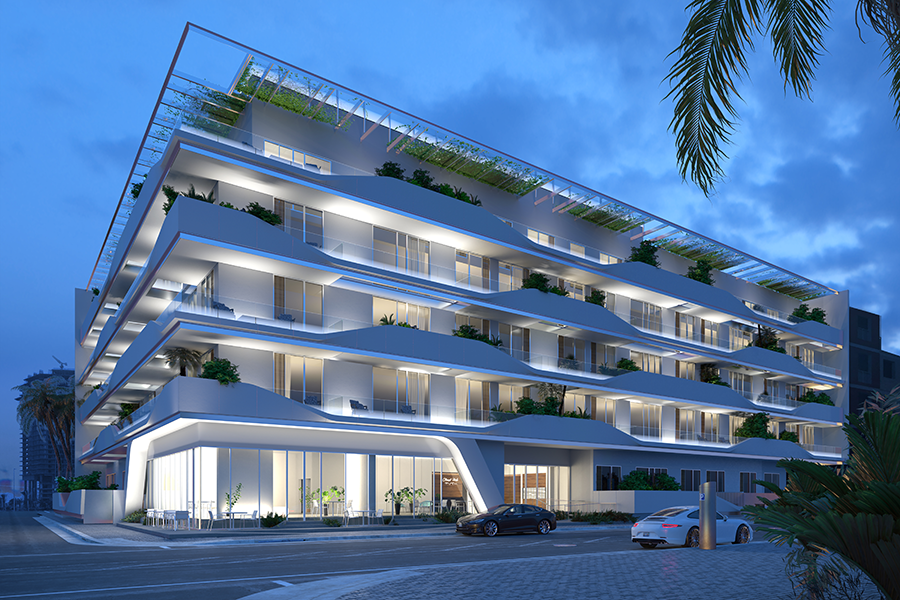 International firm Pininfarina Architecture has conceived Cloud Hub, a new contemporary living experience in Dubai. Located in the city's Jumeirah Village Circle district, the multifunctional building will be home to co-living and coworking space for both expatriates and locals. "Imagining new ways of living is our mission and dream," says Paolo Pininfarina, chairman of Pininfarina Architecture. "Dubai, with its melting pot of cultures, is the ideal place to experiment innovation. Cloud Hub represents our idea to make space and time fluid, enhancing the human interaction."
With carbon footprints in mind, Cloud Hub's façade will comprise GFRC panels of reinforced concrete with glass fiber manufactured using digital molding processes and glass panels. The Cloud Lounge on the ground floor will serve as a mixed-use environment for coworking, as well as socialization and reflection.
"Co-living spaces are designed to bring people together," adds Pininfarina chief architect Samuele Sordi. "The Cloud Hub project is part of the research the team is carrying out regarding accessible housing and quality of life that has never been more crucial than today."
The site's main amenities will include a fitness center and rooftop swimming pool to further promote wellness. Cloud Hub's 60 apartments will be available in four configurations, and each will be characterized by ample natural light—as part of the design effort to consider the physical and mental health of its occupants.
More from HD:
4 Eye-Catching Bamboo Architecture Projects
GOCO Hospitality to Launch Wellness Retreat in Canada
5 Scenic Road Trip Destinations in New York
The post Cloud Hub to Host Coworking and Co-Living in Dubai appeared first on Hospitality Design.