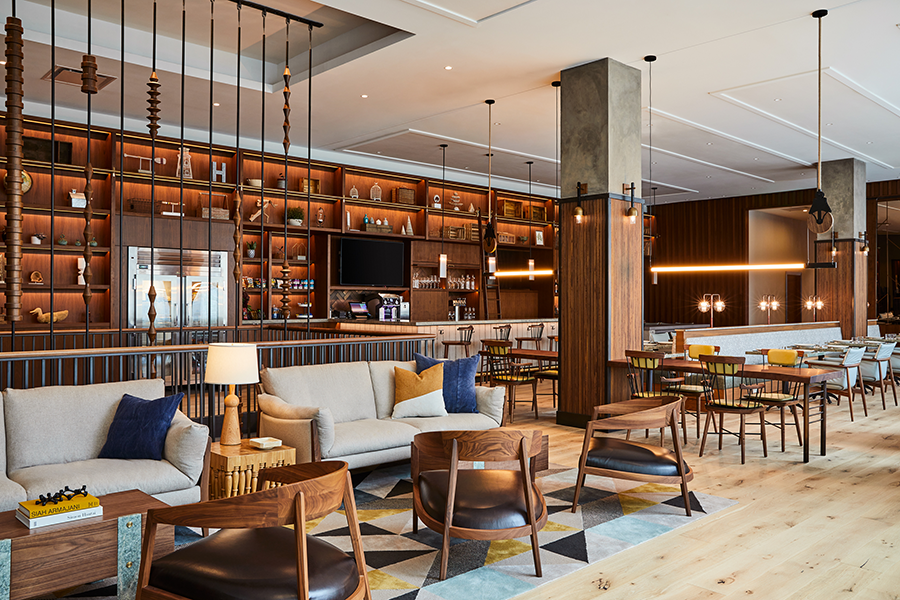 The Hyatt Centric Center City hotel, the brand's flagship Philadelphia location, has debuted in the trendy Rittenhouse Square section of the city. The upscale lifestyle concept features a design by Brooklyn, New York-based design collection CRÉME, which draws inspiration from both regional heritage and the influences of founder and principal Jun Aizaki. "We are honored to have completed the full interiors and branding for Centric's flagship Philadelphia hotel," Aizaki says. "We were able to bring forward the heart and culture of the location, as well as touches of my own heritage with the incorporation of Japanese elements."
An ethos of sophisticated simplicity is expressed through an airy, muted palette and pervasive raw wood elements that recall the city's history as a lumber capital. Elevated rustic elements are accented with more artful, contemporary features, including industrial materials like exposed concrete and blackened steel installed in the hotel's public areas. Stitched leather and wooden wall panels reflect local craftsmanship, while a variety of vintage and new, natural manmade décor animate the lobby's expansive bookshelf. Clean lines accentuate the hotel's grand staircase, which stretches through two floors in harmony with suspended wood spindles and custom black cable lights. Composed recycled garments and distressed textile works in elevator banks reflect a visual tapestry of Philadelphia's diverse neighborhoods and landscapes. A similar patchwork theme is conveyed in the custom carpeting that accents corridors with patterns inspired by the Japanese shibori technique.
The property's 332 guestrooms are crafted with a minimalist flair. The accommodations feature elegant millwork to maximize space, while layers of subtle nods to local culture that manifest in colorful kayak paddles and area rugs that reference Quaker quilting patterns. The motif of shifting landscapes appears in bathroom wallpaper as well.
The post CRÉME Designs Hyatt Centric's Philadelphia Flagship appeared first on Hospitality Design.