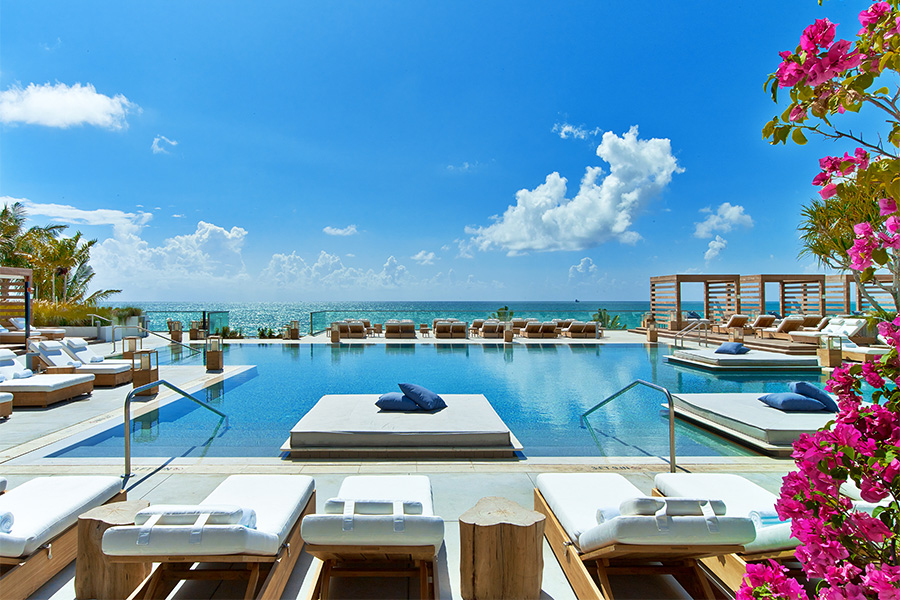 1 Hotels' Barry Sternlicht offers a positive outlook on the state of the industry, the Super Nintendo World theme park opens, and the Smithsonian is on a search for not one, but six museum directors. All that and more in this week's Five on Friday.
Nintendo springs to life in Osaka
Earlier this month, Super Nintendo World celebrated its grand opening at Universal Studios Japan in Osaka, nearly five years after its initial groundbreaking ceremony. The multi-level theme park features rides—like the iconic courses seen in Mario Kart—attractions, dining options, retail shops, and more that work together to bring the Super Mario and Yoshi video games to life. For those of us not currently in Japan, Sam Byford, Asia editor at the Verge, offers a firsthand review of the recently opened tourist attraction, which he describes as a "gleefully surreal experience that pushes surprising technological boundaries." The park was originally scheduled to be completed prior to the 2020 Olympic Games in Tokyo, which has also been postponed, Byford also points out
Barry Sternlicht expresses optimism about hospitality rebound
Remember the pent-up travel demand so many experts anticipated amid the onslaught of COVID-19 lockdowns and restrictions? Although the global pandemic has not yet ended, many are already beginning to see the impact of suppressed desire to travel, dine out, and socialize play out—especially in Florida. During an appearance on CNBC on Wednesday, Starwood Capital Group cofounder and 1 Hotels CEO Barry Sternlicht shared that in February 2021 the 1 Hotel South Beach performed better than that same month in 2019. Furthermore, in Miami, restaurant patronage this month is 8 percent above where it was in March 2019, he said. Sternlicht even went so far as anticipating a "frenzy" this summer.
WeTransfer's editorial platform teams up with Marina Abramović
For the inauguration of its Guest Curator Series, WePresent, the editorial arm of  file transfer service WeTransfer, is collaborating with Serbian conceptual and performance artist Marina Abramović to showcase the importance of performance art and how it applies to everyday life—all in an interactive format. The series kicked off by highlighting five rising performance artists, selected by Abramović, from around the world, and will be followed by the summer debut of the digital manifestation of The Abramović Method, "an exploration of being present in both time and space, in a year when reconnecting with ourselves has never been more important," she says.
Is the Smithsonian at a crucial turning point?
While museums across the U.S. navigate the impact of COVID-19 and a call for diversity and equity within the institutions, the Smithsonian is also looking to appoint leaders to four of its existing sites, plus two founding directors for two new museums, reports the Washington Post. The simultaneous—and coincidental—vacancies create an opportunity for the institution to fundamentally reshape its future for the better. "You have to have people who represent people of color in positions of authority to be able to shape the museums," says Eduardo Díaz, interim director of the newly authorized National Museum of the American Latino. "What does it mean to be American anymore? I think the Smithsonian is taking it to heart in important ways."
Catch HD live with industry leaders every week
More than one year since the global pandemic was declared and offices shutdown, Hospitality Design editor in chief Stacy Shoemaker Rauen continues to sit down virtually with designers, architects, hoteliers, and more. Since kicking off our weekly Instagram Live series in April 2020 with an interview with Ace Hotel Group's Brad Wilson, Shoemaker Rauen has connected with more than 60 leaders across the globe to chat about everything from reopening properties and projects in the works to the short- and long-term impacts of COVID-19. Our five March segments featured Andy Ingraham of NABHOOD, the partners of Dutch East Design, hotelier Kit Kemp, designer Celerie Kemble, and architect Stephen Brockman. Head to @hospitalitydesign to catch up with previous installments!
The post Five on Friday: March 26th, 2021 appeared first on Hospitality Design.