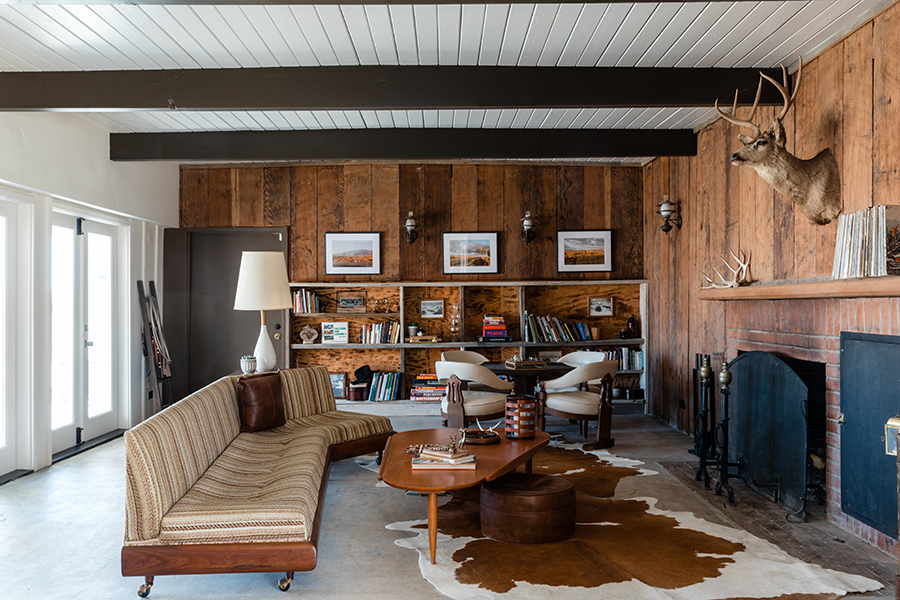 A roadside motel in Santa Barbara County, California, first constructed in the 1950s, has been revitalized as a new high desert resort concept anchored in natural beauty. Purchased three years ago by Los Angeles-based design firm IDGroup, Cuyama Buckhorn has returned as an authentic and unconventional experience inspired by the creative spirit and rich traditions of its region.
"Both [co-owner] Jeff Vance and I are big believers in the idea that every property kind of tells you what the lay of the land needs to be. The connection to history separates each property from one another and we highlighted that," says IDGroup co-owner Ferial Sadeghian. "What really sets this property apart though is all of the open, usable outdoor space. By creating private patios for each room and designing many new outdoor spaces for guests and visitors, we have created whole new ways for guests to be in and experience the property."
Spread across two acres, Cuyama Buckhorn maximizes its footprint with a variety of outdoor amenities, including a heated pool, theater and screening area, gaming, and a barrel-style sauna overlooking mountain views. In addition to an alfresco cocktail bar, a revamped lounge area showcases a vintage midcentury fireplace and Adirondack seating. The Garden serves as Cuyama Buckhorn's F&B venue, and features an intimate greenhouse detailed with sculptures. Inside, the restored lobby is also populated with vintage furniture and a historic fireplace, as well as a library space. Additionally, the Buckhorn Market is housed onsite, providing guests with an array of locally produced and homemade grocery goods.
The post Former Roadside Inn Reimagined as Desert Resort in California appeared first on Hospitality Design.