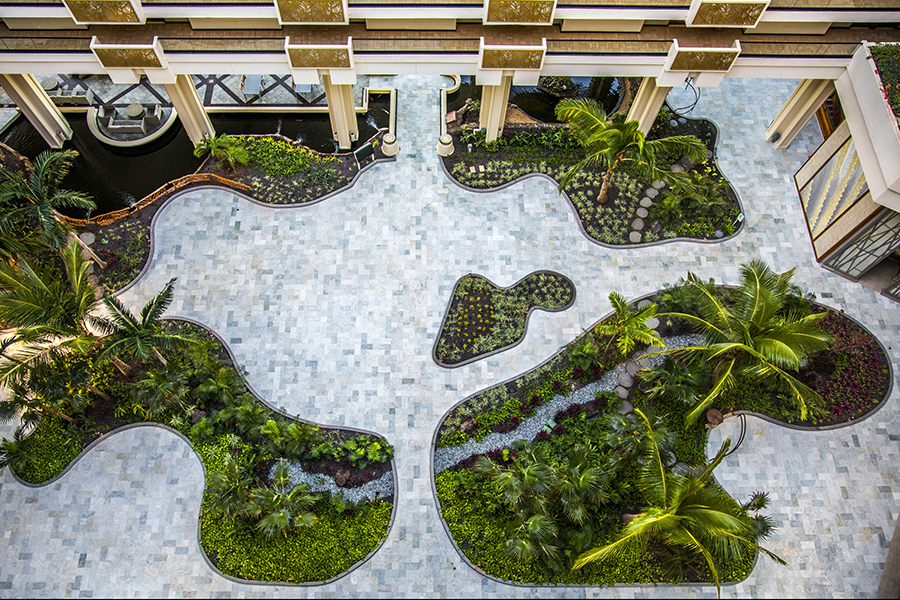 The Hyatt Regency Maui Resort and Spa has emerged from a multimillion-dollar revamp led by Wimberly Interiors. Upgrades impacted the lobby, as well as the resort's 810 guestrooms, which includes 31 suites. The renovation draws upon the natural harmony of the Hawaiian locale to guide an authentic, modern aesthetic.
"Our goal for this renovation was to reconnect guestrooms with nature, maximize space, and brighten, reinvigorate, and modernize their interior design," says Erin Nichols, senior associate for Wimberly Interiors. "Looking to the resort's surroundings for ultimate inspiration, natural materials and green tones are used throughout, creating a relaxed atmosphere that layers Hyatt's signature subtleties with a casual lifestyle resort vibe."
The reimagined lobby is lined with new light stone flooring, accented by organically shaped plant beds that showcase native flora, that reflects the inspiration of the resort's setting. Open-air architecture frames serene ocean views and infuses abundant natural light to establish a vibrant-yet-relaxing atmosphere.
New guestrooms are also informed by the rich heritage and natural beauty of Ka'anapali Beach. Private lanais with glass balconies reinforce the backdrop with striking vistas, while details like open closets add a feeling of openness to each accommodation.
More from HD:
4 Eye-Catching Bamboo Architecture Projects
Habitas to Debut Third Sustainable Retreat This Summer
5 Scenic Road Trip Destinations in New York
The post Hyatt Regency Maui Reveals Refresh appeared first on Hospitality Design.