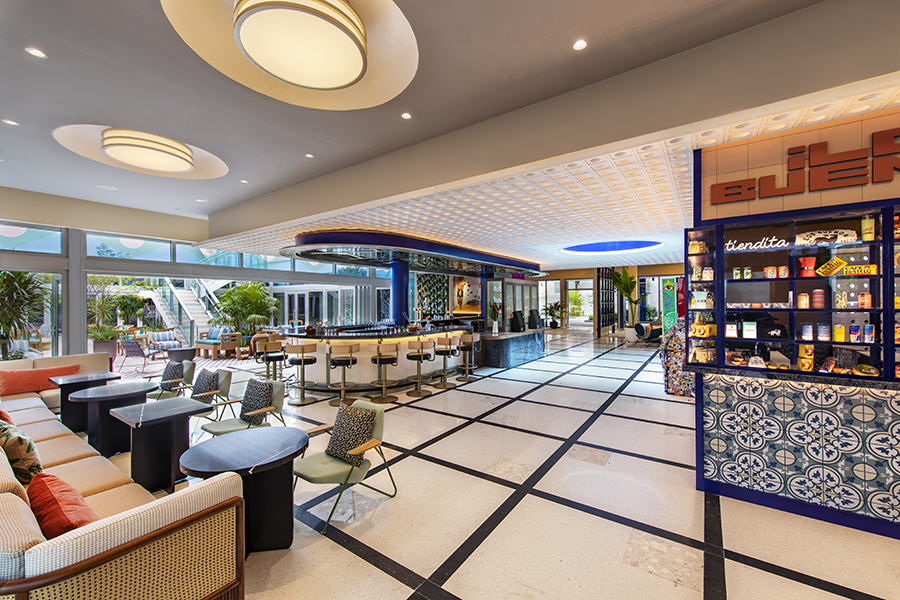 Moxy Hotels inaugurated its first Miami property last month with the launch of the Moxy South Beach. Housed within an eight-story structure upgraded by locally based Kobi Karp Architecture & Interior Design, the chic hotel showcases an eclectic style informed by the glamour of midcentury Havana, the contemporary sophistication of Mexico City, and the timeless vibrancy of the Magic City. Hotel interiors were executed by New York-based Rockwell Group, while F&B spaces were crafted by Miami firm Saladino Design Studios.
Situated on a block of Art Deco façades, Moxy South Beach features an exterior that comprises a courtyard lined with breezeblocks, while new awnings and light fixtures complement the surrounding vernacular. Floor-to-ceiling windows flood interiors with daylight, further animating its public areas. Furthermore, Art Deco-inspired paneling and an infinity mirror installation pay homage to local aesthetics and Cuban influences.
Lined with geometric terrazzo flooring and abundant greenery, the hotel's diverse interiors are anchored by signature social hub Bar Moxy, which displays retro-style barstools and an oval-shaped bar. In addition to Bar Moxy, five F&B options are located onsite, including seafood restaurant and raw bar Como Como, mezcal lounge Mezcalista, open-air rooftop bar and restaurant Serena, all-day taco stand Los Buenos, and the Upside rooftop bar. A 72-foot-long pool—outfitted with tiered lounge seating and luxury cabanas—on the second-floor terrace serves as another key social area. At the bottom of the pool, an eight-foot oculus provides swimmers a glimpse into the lobby below.
The hotel's 202 guestrooms and suites draw inspiration from the Clyde Mallory Line, an overnight ferry service that once ran between Miami and Havana. Reminiscent of ocean liner staterooms, Moxy South Beach's accommodations artfully evoke a midcentury-style ambiance while maximizing their layout with a contemporary functionality.
The post Magic City Style Reigns at Moxy South Beach appeared first on Hospitality Design.