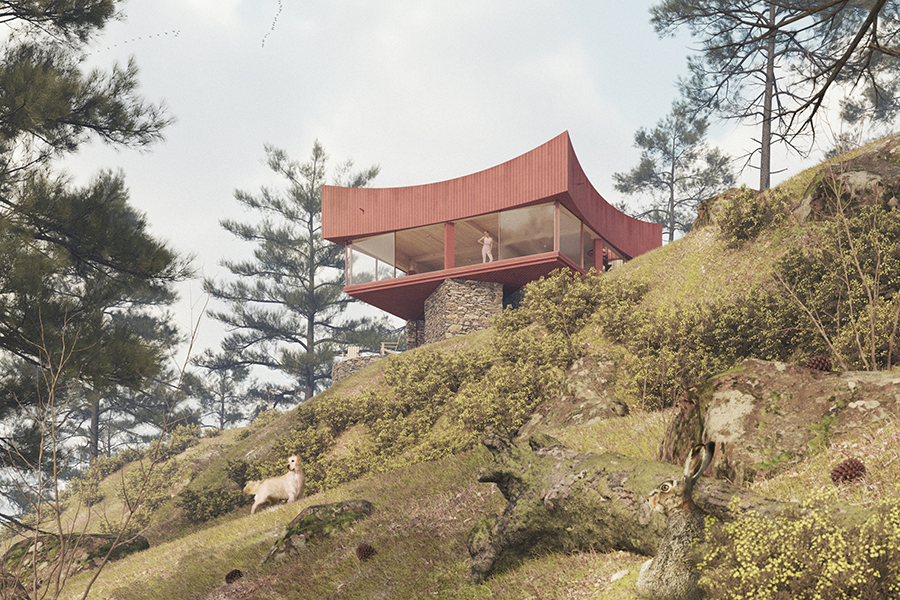 Portuguese design firm MESA Atelier has revealed renderings for Lotus House, a yoga studio embedded into the landscape of a cliffside in Oleiros, Portugal. Composed of natural materials, the proposal spans two floors outfitted to maximize sun exposure and natural ventilation.
Self-supporting shale stone walls will be featured across the ground floor and basement to support temperature regulation and the humidity of the soil. Wooden ceilings will be painted dark red to promote mindfulness as well. Common areas on the ground floor, like the tearoom, will be accessed via a metal spiral staircase leading to the yoga room on the upper level. Glass façades will infuse abundant daylight into the flexible yoga studio, where pine wood will be prominently featured to convey a sense of comfort and tranquility.
A roof garden will also crown the pavilion, freeing the central area for yoga. Pine planks painted red will line the garden, while joints will be left open to ensure permeability and support of onsite irrigation. MESA Atelier architect João Varela adds, "While the ground floor merges with the soil and the landscape, due to the use of stone, the upper floor is constructed of pine wood and levitates between the treetops, projecting towards the valley."
The post MESA Atelier Imagines Lotus House Yoga Pavilion appeared first on Hospitality Design.