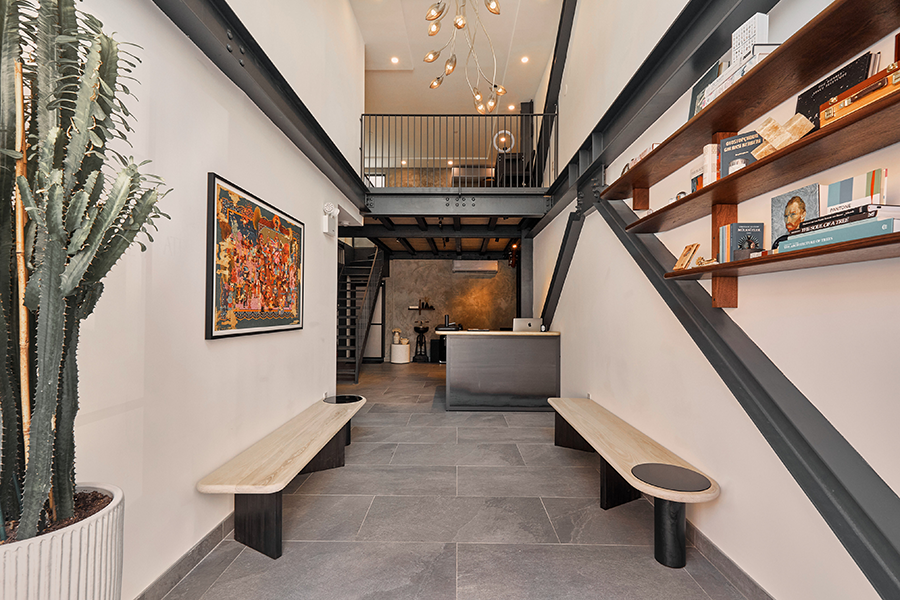 Tattoo artist Eva Krbdk has unveiled her eponymous tattoo studio, Atelier Eva, in the Williamsburg section of Brooklyn, New York. An aesthetic departure from a conventional New York tattoo parlor, Atelier Eva evokes a tranquil, spa-like experience defined by minimalism and warmth. "Getting a tattoo can be a stressful experience," Krbdk says. "I researched modern spas and hotels to get a sense of which woods, finishes, and textures would set the right tone. It had to feel sophisticated, but also practical and comfortable."
An industrial ethos characterizes the new build, which features a materiality anchored by concrete and steel and contrasted by walnut, ash, glass, and silver. Matte finishes and brushed textures also infuse an approachability to the venue.
Krbdk partnered with local woodworker Cauv Design to craft sleek wooden furniture that offsets the sharp edges of the architecture, while paintings by Turkish artist Murat Palta nod to Krbdk's own heritage. Custom light fixtures, including fill lights reminiscent of a pregnant woman holding her stomach, further elevate Atelier Eva with a bespoke quality. Abundant daylighting also complements the interior palette of slate, charcoal, eggshell, and other earth tones.
Beyond workspaces partitioned by screens on the ground floor, more intimate designs are executed on the upper mezzanine. Rounding out the tranquil experience, visitors can also access the backlot, which is home to a Zen garden.
"It's all about striking a balance," Krbdk adds. "We wanted to be mindful of color, as the artists take photos of their work in the space. It's important that their art is the focal point, and never feels overpowered by the studio itself."
More from HD:
4 Eye-Catching Bamboo Architecture Projects
Snarkitecture Crafts Kith's First European Flagship
5 Scenic Road Trip Destinations in New York
The post Spa-Inspired Tattoo Shop Opens in Williamsburg appeared first on Hospitality Design.