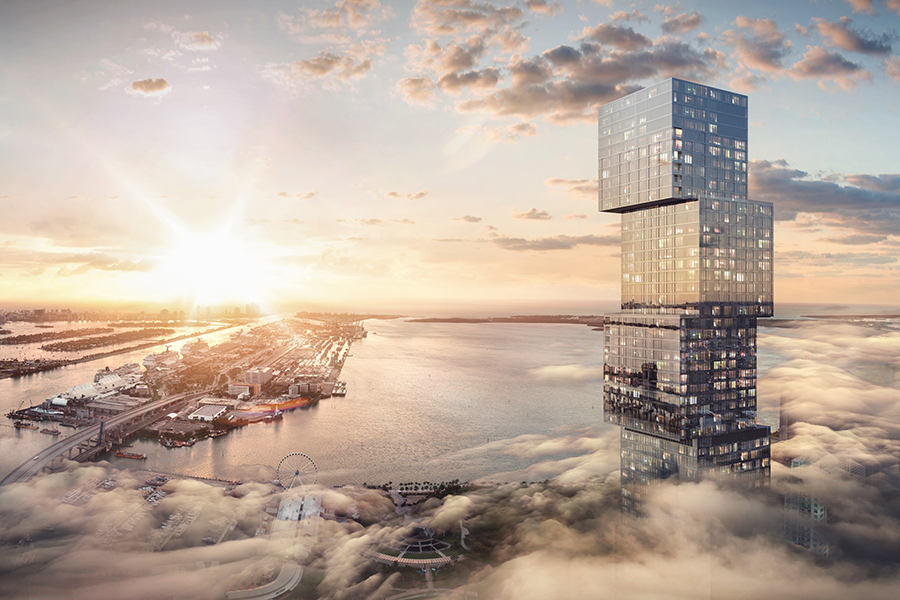 Waldorf Astoria has announced plans to launch its maiden property in the Magic City with the Waldorf Astoria Residences Miami. Housed within a 100-story tower soaring 1,049 feet above Biscayne Bay, the development will be the tallest building in Florida, as well as the tallest residential volume south of New York. Waldorf Astoria Residences Miami will be home to 360 private residences as well as a 5-Star hotel offering 205 guestrooms and suites.
The property will be distinguished in the city skyline via an exterior of nine spiraling, offset glass cubes conceived by concept designer Carlos Ott in collaboration with architect of record Sieger Suarez Architects and developer PMG. San Francisco-based practice BAMO will oversee the property's flowing and functional interior design.
"Our design work is guided by an awareness that the human experience and one's frame of mind can be influenced by their surroundings," says BAMO principal of Anne Wilkinson. "In designing for the Waldorf Astoria Residences Miami, our goal was to create an experience that felt transcendent, inspiring a sense of awe as you arrive, and in exploring further, a sense of discovery and reflection."
Signature amenities will include the Peacock Alley hotel bar, a specialty restaurant, spa, fitness center, indoor-outdoor event spaces, meeting rooms, and a resort-style pooldeck lined with private cabanas.
The post Waldorf Astoria Enters the Miami Market appeared first on Hospitality Design.