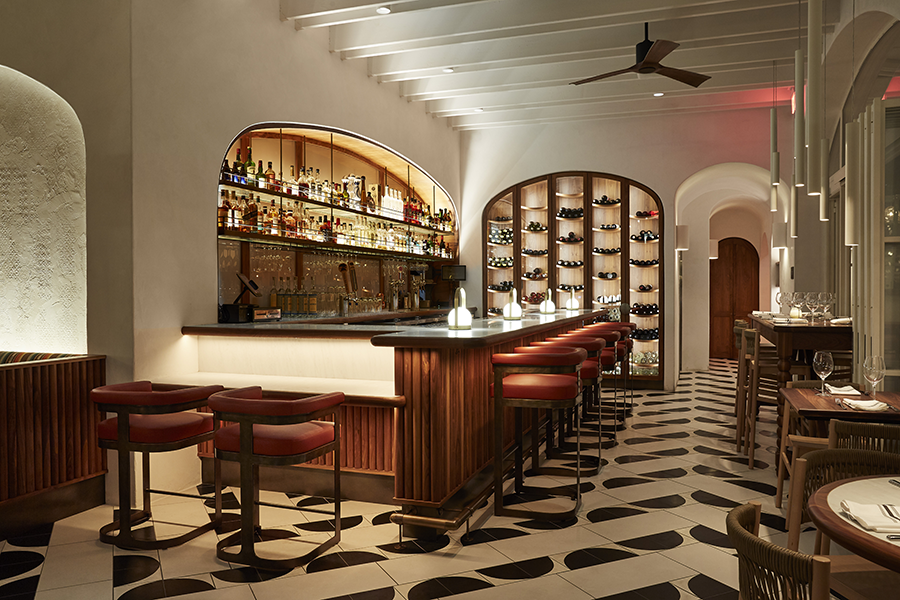 A new outpost of Mediterranean restaurant Porta Via has joined the dining scene in the Calabasas suburb of Los Angeles. Influenced by Pueblo culture and local Spanish architecture, the restaurant was crafted by designer Sophie Goineau as a synthesis of local coastal style and the artisanal traditions of both Mexico and the Mediterranean.
Following the onset of the pandemic, Goineau adjusted the initial plan for the space. This included widening arches to support a more seamless flow between indoors and outdoors, softening sharp edges, and applying custom plaster finishes to walls. The iconic motifs and murals found in the Casa Maoritze villa designed by Mexican architect and artist Marco Aldaco were replicated as well.
The design complements the Spanish Colonial Revival style of the Commons at Calabasas with nods to the beachside setting of Careyes, Mexico, as well as the the bohemian spirit of the 1970s jet-set era. Beyond white macrame pendants from London and Italian rope chairs, nearly all of Porta Via' bespoke furnishings are locally sourced. Bespoke honey-toned walnut banquette are rounded to fit interior alcoves, while deep scarlet leather wraps barstools accented with bronze. The soft wooden table bases and bar offset the millwork and metalwork throughout, and organic clay and cement tiles are inlaid in a reverse chevron pattern to evoke a traditional Mexican folklore motif.
A massive custom mirror adorns one wall to further expand the scope of Porta Via. Outside, the palazzo terrace is illuminated by Mexican rattan pendants after sunset. "There is a sensitivity of being close to the environment and cherishing it," says Goineau. "We have the opportunity to redefine contemporary living in philosophical, technological and sustainable ways."
More from HD:
Le Pristine Restaurant Evokes Moody Opulence in Antwerp
4 Eye-Catching Bamboo Architecture Projects
What I've Learned Podcast: Marquise Stillwell
The post Airy, Artful Style Abounds at Porta Via in Calabasas appeared first on Hospitality Design.