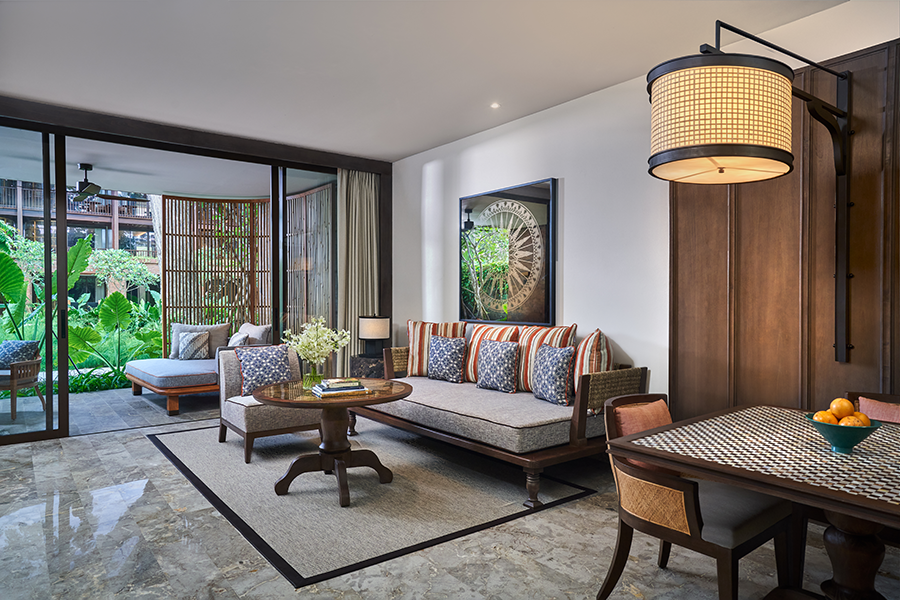 Hyatt has announced the launch of Andaz's maiden property in Indonesia. Located in the tranquil setting of Sanur, the beachfront Andaz Bali radiates authenticity thanks to an immersive, contemporary design that reinterprets Old World, Balinese traditions.
"Andaz Bali is made up of a combination of different indigenous materials used across different buildings so the resort feels natural and authentic," says Andreas Stalder, senior vice president of product brand development for Hyatt. "Many local touchpoints and traditions are carefully integrated into the spaces and design, allowing guests to immerse themselves into a true Balinese village experience and embrace the local lifestyle.
Drawing inspiration from nearby villages, Andaz Bali accents its red brick composition with lush greenery. Low-rise structures comprise the tropical retreat, which aims to bond guests in the splendor of the landscape. Crafted to maximize the balmy climate through a sunny, open-air design, four 2,540-square-foot studios serve as flexible social or event spaces as well.
The modern seafood concept Fisherman's Club serves as the signature onsite F&B option, while Village Square invites guests to indulge in four different culinary options—from traditional Indonesian fare to coffee and desserts. Accessed via an aromatic garden, Shankha Spa is home to a fitness center, sauna, steam room, boutique, lounge, yoga room, an adults-only pool, and dual plunge pools.
Bangkok-based Tierra Design partnered with Tokyo-based Spin Design Studio on the resort's 149 guestrooms, which includes 18 garden villas and four beach villas. Beginning at 710 square feet, accommodations are crafted with locally sourced materials—like bamboo, andesite stone, marble, and teak—to amplify the contemporary Balinese ethos. Each guestroom is also equipped with a private balcony overlooking views of nature, while the 6,220-square-foot two-bedroom beach villas feature an outdoor terrace along with a spacious living room and swimming pool.
More from HD:
What I've Learned Podcast: Gary Dollens, Hyatt Hotels
Park Hyatt Shenzhen
Ellery Beach House Conjures Up a Retro Spirit
The post Andaz Bali Debuts in Indonesia appeared first on Hospitality Design.