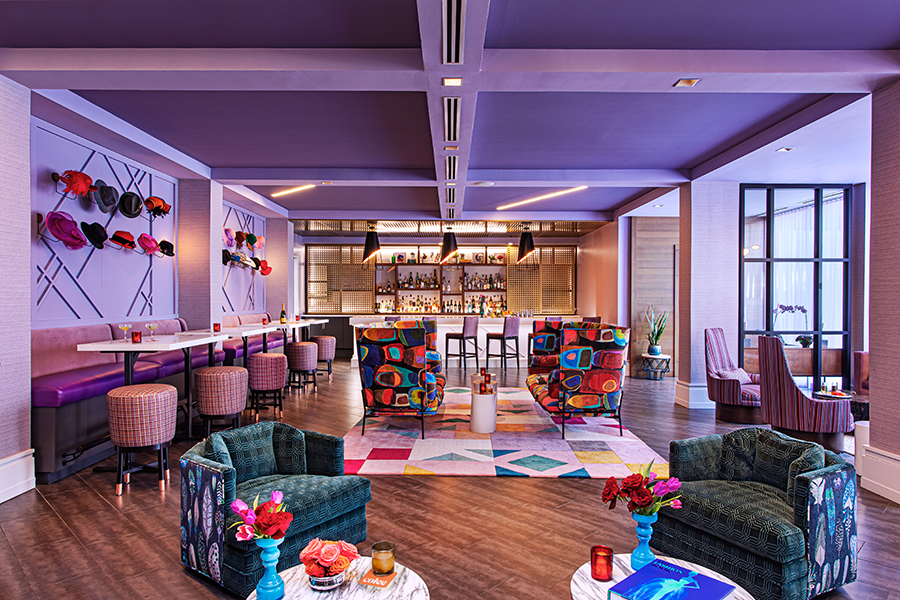 Hotel Colee has debuted in the Buckhead suburb of Atlanta as the latest entry into Marriott's Autograph Collection. Chicago-based Andrew Alford Creative spearheaded the hotel's visual identity, which draws inspiration from the setting and sets an immediate tone for celebration upon arrival.
Guests are first welcomed by an installation of colorful streamers descending from the porte-cochère leading into the lobby, which is enlivened with rich patterns, subtle pastels, and a lavender-hued backdrop that conveys versatility and promotes self-expression. Furnishings are wrapped in jewel-toned patterned fabrics, depicting feathers, florals, geometric motifs, and more. Vivid, abstract rugs further support the immersive, fashion-forward interior design.
Eclectic idiosyncrasies abound in the form of bird statuettes, gemstone-colored vases, and a wall of vintage men's pocket squares. An acrylic backdrop custom made by Alford rounds out the space. "Inclusivity and celebrating personal style are at the heart of this design. No matter what you are wearing, no matter the color of your skin, there is a vignette or moment for you," he says. "Here, there is no one right way to look—or be. Show up, be yourself, and you'll look and feel amazing."
The lavender palette is perpetuated in the lobby bar, where low-slung chairs and a central enclave of high-backed velvet settees are installed nearby an installation featuring two dozen vintage church and dress hats adorning one wall. Another key social hub of the design is the rooftop infinity pool, which pays homage to iconic designer Dorothy Draper with colorful striped walls that evoke a nostalgic sense of modernism across the space.
Each accommodation features an open-front, mirror-backed wardrobes installed alongside vibrantly hued window seats and prints by artist Lela Brunet that depict colorful, feminine forms complementary to the design.
More from HD:
Bashar Wali Launches This Assembly
Adi Goodrich Crafts Cheerful Grocery Store in Los Angeles
Raffles Boston Back Bay Reveals Latest Design Details
The post Autograph Collection Launches Vibrant Buckhead Hotel appeared first on Hospitality Design.