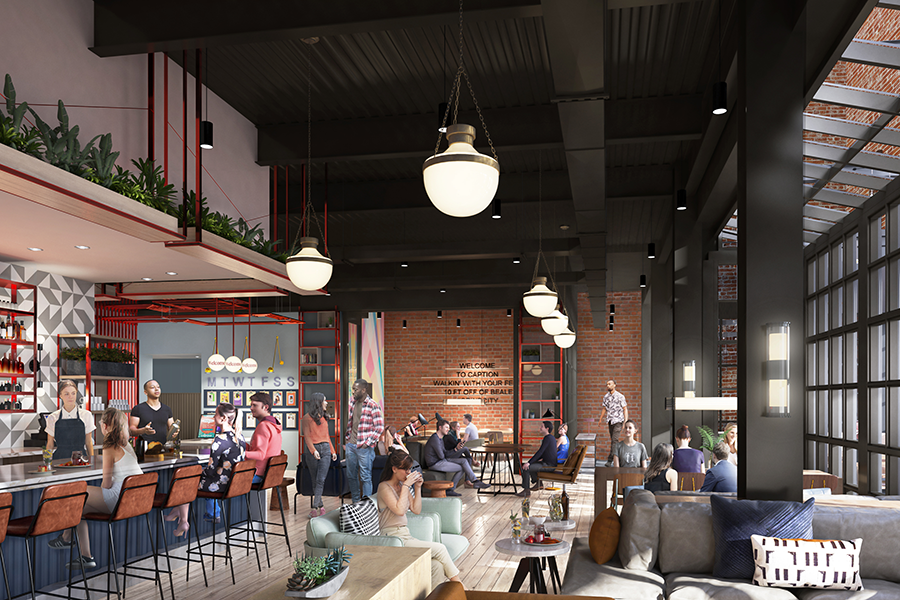 Hyatt has announced plans to develop the maiden location for the new Caption by Hyatt brand in Memphis, Tennessee. Grounded in a commitment to foster new connections and care for people and place, the emerging brand will be distinguished by communal spaces and a contemporary, urban aesthetic that comprises an eclectic layering of color and art.
"We're excited to bring the Caption by Hyatt brand to Memphis, a brand that is truly committed to embracing the evolving needs of today's traveler," says Crystal Vinisse Thomas, Hyatt's global brand leader of lifestyle and luxury brands. "We are confident this hotel will deliver on creating a welcoming space where both travelers and locals can hang out, be themselves, and feel connected to the community."
Located adjacent to the newly opened Hyatt Centric Memphis Beale Street, the Caption by Hyatt Memphis will be integrated into the historic home of one of the city's earliest and longest running businesses: Wm. C Ellis & Sons Ironworks and Machine Shop. Hotel facilities will be housed across the ground and second floors, while a new tower will accommodate all 136 guestrooms. Locally based studio HBG Design is spearheading interiors for the project, which is slated to debut in 2022.
A signature marquee will herald the new hotel, fixed above the entrance to the multifunctional lounge Talk Shop. The double-height space will be punctuated by existing architectural features like original heavy timber framing, decorative brick, and clerestory windows. An expansive patio and double-height beer garden will also be attached.
An additional Caption by Hyatt outpost in Shanghai is also currently in the pipeline.
More from HD:
What I've Learned Podcast: Gary Dollens, Hyatt Hotels
Gensler Unveils Renovations at Hyatt Regency Monterey
Nicole Hollis Designs Hyatt's El Capitan Hotel
The post Caption by Hyatt Brand to Launch in Memphis appeared first on Hospitality Design.