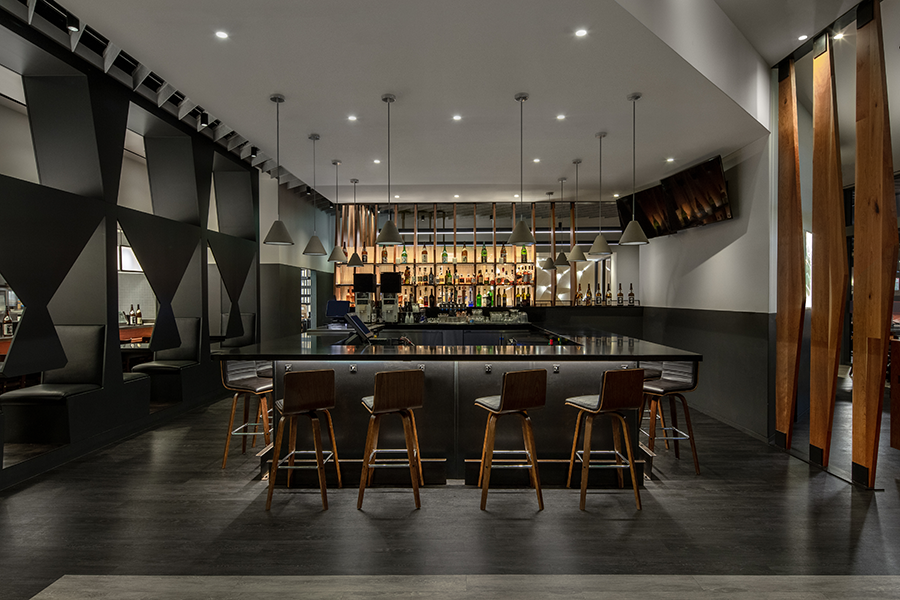 The fourth outpost of Hapa Sushi Grill & Sake Bar has opened in the Cherry Creek North section of Denver, Colorado. The moody interior design by locally based Roth Sheppard Architects echoes traditions of Japanese design, while also incorporating the cultural influences and vernaculars of the Pacific Islands and Hawaii.
Located within the base of a four-story mixed-use complex, the new restaurant showcases a duality of old and new, as well as a juxtaposition of the familiar and the unexpected. "The feel of the space is encouraged to change depending on the customer and their interpretation of these elements, and even evolve for the same person over the length of the meal or multiple visits," says Roth Sheppard project manager Natalie Seifert.
Timeless materials like warm wood and black stone are offset by clean bright white details and pops of orange. Orthogonal and angled grids also characterize the design in a variety of elements, including the booth curtains to the host stand. Cherry wood, often used for the sushi bar at existing Hapa locations, is employed to serve as large, angular partitions—reminiscent of surfboards—throughout the interior.
Custom two-person booths also recall the heads of tiki totems and the brand's robotic mascot. Rich textiles wrap the banquettes, while shimmering bronze mesh details the edges of the bar.
"We wanted the space to feel unmistakably like a Hapa Sushi restaurant, however, this location required imbuing some additional sophistication to match the very upscale surroundings," Seifert adds. "Our goal was for the space to feel like a blend of cultures, shapeshifting between them all."
The post Cultural Influences Collide at Denver's Hapa Sushi appeared first on Hospitality Design.