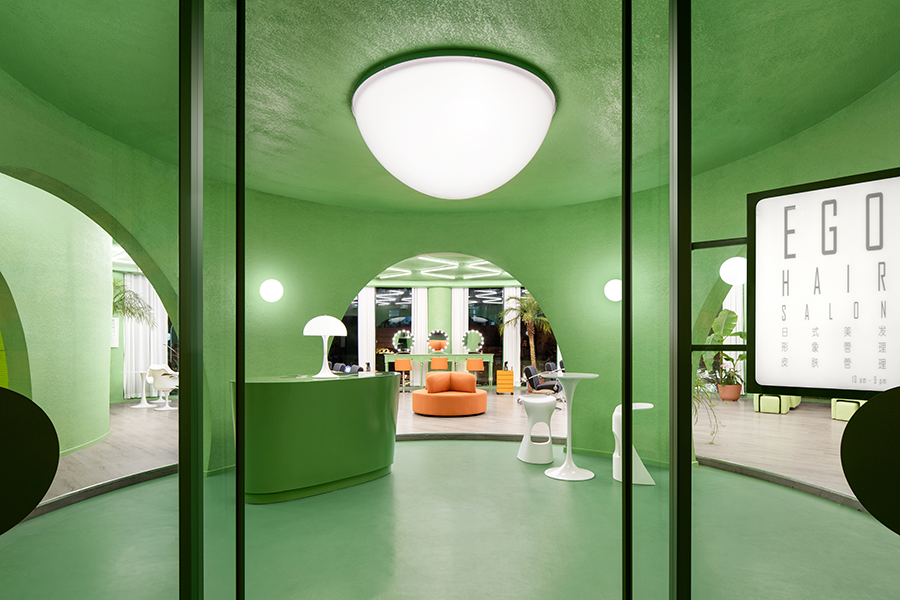 The new Ego Hair Salon has opened in Beijing, elevating the conventional salon experience with a futuristic-inspired narrative influenced by nature. Locally based firm IS Architecture & Design also drew inspiration from the Space Age as it crafted the space as an abstract environment with forms that reference the cosmos and earth.
"These two ideal worlds that seem to be alternative in reality, seen from the eyes of creativity, in their figurative aspects have formal elements that unite them. They both prefer rounded shapes and use colors that are reminiscent of nature and they both use organic organizational systems," says the firm's founder Fabrizio Gurrado. "In this project of ours, we have opted to propose a world of the future in which artifice and nature coexist in a serene and clean balance."
Formerly a gym, the space's original circular floorplan is adapted to convey an openness representative of, as Gurrado puts it, a "diffused enthusiasm and faith for the new era" synonymous with the Space Age. Greenery, including palms and cacti, populate the interior, complementing the avocado green hue that decks the space's walls and ceilings, which also feature chrome finishes and strip lighting.
Synthetic green floors composed of desaturated wood reinforce nature as well. Voided with arches to maintain sightlines, curved plaster walls in the lobby recall a space shuttle, while an acrylic light fixture illuminates the reception area. Treatment rooms and the VIP room are adorned with soothing ochre and tangerine tones to offset the palette.
The post Ego Hair Salon Explores the Overlap of Space and Nature appeared first on Hospitality Design.