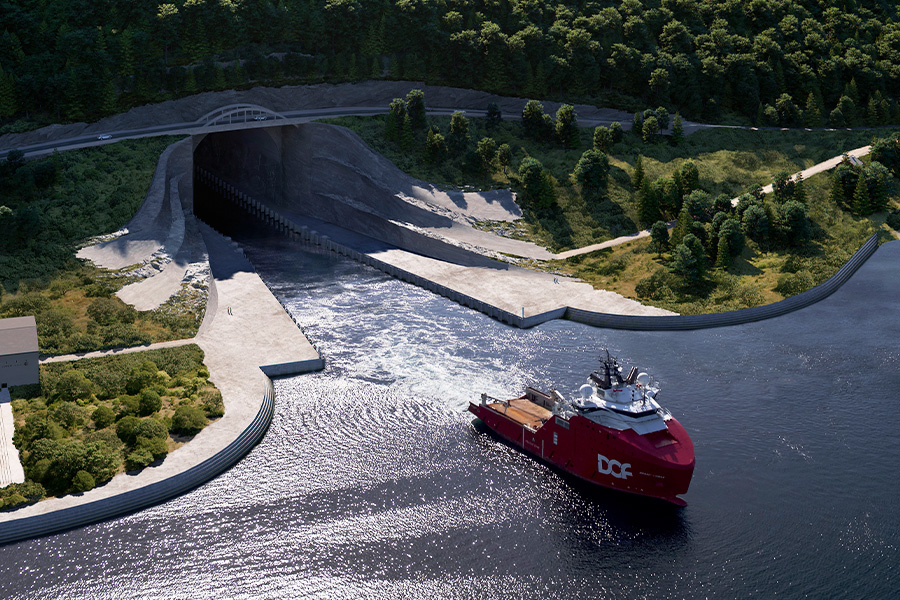 Snøhetta designs a mile-long ship tunnel in Norway, Michigan's Cranbrook Academy receives a generous donation, and late artist Winfred Rembert, whose work depicts the Jim Crow South, is remembered. All that and more in this week's Five on Friday.
One week left to submit to the 2021 HD Awards!
The deadline for both project and product submissions to the 17th annual HD Awards is Friday, April 16th. Only submissions that have debuted between December 1st, 2019 and April 15th, 2021 will be eligible for consideration by our esteemed judges. Honorees will be highlighted in the September 2021 issue of Hospitality Design magazine and fêted during an awards ceremony on September 21st, 2021 at Cipriani South Street in New York. For more information, visit hospitalitydesignawards.com.
Snøhetta embarks on design of the world's first ship tunnel
Construction has kicked off on a mile-long ship tunnel along the coast of Norway's Stad peninsula. Spearheaded by Snøhetta and commissioned by the Norwegian Coastal Administration, the tunnel will be the first of its kind upon completion in 2025–2026. Designboom reports that the tunnel's design, which was first commissioned in 2016, will draw upon the natural and cultural landscape with a materiality anchored by stone. Carved out of a mountain, the tunnel will be flanked by sloping terraces that further link the tunnel to its surroundings.
All-star design team appointed for overhaul of industrial area in Milan
A design team led by OUTCOMIST, Diller Scofidio + Renfro, PLP Architecture, CRA – Carlo Ratti Associati, and Arup has been named the winner of an international design competition to transform the Porta Romana Railway area. The project will overhaul the industrial site into a biodiverse public space that comprises a large urban park developed atop the active railway, according to ArchDaily. Grounded in principles of connectivity and wellbeing, the mixed-use district will be designed to accommodate work and leisure. The regeneration will be developed in alignment with the goals of the Paris Agreement, the European Green Deal, and the National Recovery and Resilience Plan.
Artist Winfred Rembert dies at 75
Winfred Rembert, an artist who boldly narrated the history of the Jim Crow South through mixed-media art, died at his home in New Haven, Connecticut on March 31st. He was 75. Rembert narrowly escaped a lynching by a mob of white men in 1967 when he was 21 and was chased by two men armed with shotguns following a civil rights demonstration two years prior. He was later incarcerated for eight years for stealing a car, during which time Rembert learned to carve and dye leather, depicting scenes from his life. A small leather picture created for friends in the 1980s invited public interest, and following encouragement from his wife, Rembert crafted from his memory. Ranging from lively dive bars and pool halls to segregated classrooms, the scenes Rembert rendered were shown during a solo exhibition in New Haven in 1998, and eventually in spaces like the Yale University Art Gallery and the Adelson Galleries in New York. According to the New York Times, a memoir coauthored by Rembert is forthcoming.
Cranbrook Academy to promote diversity with $30 million gift
The Cranbrook Academy of Art in Bloomfield Hills, Michigan has announced a historic $30 million donation by art patrons Jennifer and Dan Gilbert. Believed to be the single largest sum ever received by a U.S. graduate institution, the gift will partially fund a permanent endowment dedicated to fellowships for students from underrepresented groups. According to ARTNews, 20 full-tuition fellowships will be offered through the school's Gilbert Fellows program. Cranbrook's existing scholarship fund, which provides aid to any eligible student, will also be expanded.
The post Five on Friday: April 9th, 2021 appeared first on Hospitality Design.