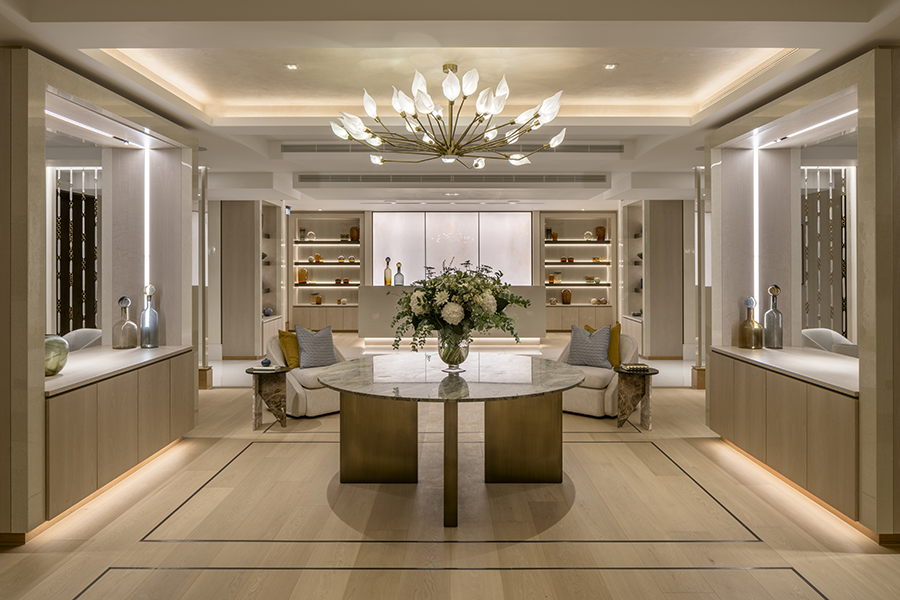 Goddard Littlefair has completed its design of the new spa at Southbank Place in London. Ultra-sleek and elegant, the experiential oasis promotes restoration and wellness for residents of the mixed-use development through a design inspired by the opulent spas of the world's elite hotels. "We recognized that facilities of top luxury hotels had the closest synergy with what we felt residents would want to have access to," says Goddard Littlefair cofounder Martin Goddard. "We wanted to ensure that a series of experiences were available to the users to excite and encourage the spa to be fully utilized. The experience of decompressing and unwinding is a key consideration in the planning and design stages of a world class spa facility."
Spread across more than 21,000 square feet, the spa comprises a range of zones to accommodate an array of revitalizing activity. The spacious reception area serves as a social hub for residents, therapists, and trainers. In addition to a treatment room, spa facilities also include yoga and spin studios and a fitness center. A dedicated men's sauna is featured onsite, as well as a vitality, sauna, and steam room for women.
A sense of calm is conveyed through a soothing palette of natural materials and custom ambient lighting. The lighting design serves as a paramount fixture of the spa's subterranean spaces, where warm glows are cast upon rich surfaces for an immersive effect. Marine-grade faux lather panels and custom burnished rock crystal screens infuse texture into the design. "Obscured views of other users means interaction can be limited, allowing that sense of a personal and restorative experience to unfurl," says Goddard Littlefair cofounder Jo Littlefair. "Key to the success and the wellness of guests is the ability for them to have a fully flexible and individual experience to enjoy for years to come."
More from HD:
Goddard Littlefair Completes the Mayfair Townhouse in London
What I've Learned Podcast: Marquise Stillwell
Airy, Artful Style Abounds at Porta Via in Calabasas
The post Goddard Littlefair Designs Luxe Spa in London appeared first on Hospitality Design.