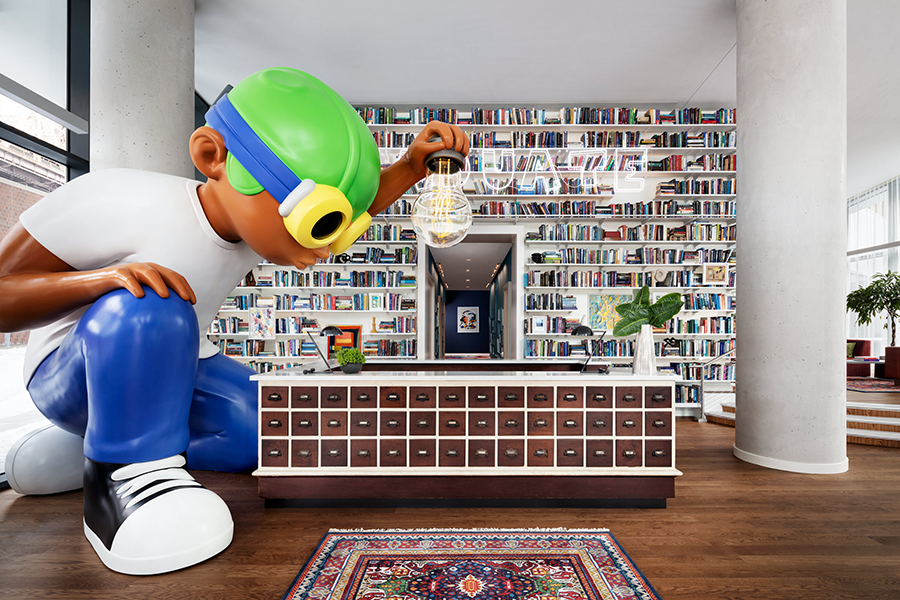 Graduate Hotels is set to unveil its first New York hotel, the Graduate Roosevelt Island, this June. The first hotel to be developed on the eponymous East River island, the property will be crafted by Snøhetta with clean, modern interiors by locally based firm Stonehill Taylor and Graduate's in-house team at AJ Capital Partners.
The hotel will open adjacent to the Cornell Tech campus, which also calls the island home. "Guests can expect a design that creates a sense of discovery and evokes a strong sense of place throughout the hotel," says Krissy Melendez, senior concept director of AJ Capital Partners. "We had an incredible opportunity with the new build and as the first hotel on the island to design against never-before-seen vantage points. We leaned into the unique experience of encountering new and unexpected perspectives and are thrilled to have created a space that's both welcoming and exciting for guests and locals alike."
The façade of the 18-story structure will be made of faceted glass and metal panels with floor-to-ceiling windows that infuse the space with abundant daylight. The interiors of the 224-key hotel will boast Graduate signatures like plaid prints, vibrant colors, and showstopping sculptures. Additionally, Graduate Roosevelt Island will house an all-day restaurant on the ground floor as well as an indoor-outdoor rooftop bar and lounge. More than the 3,000 square feet of meeting and event space will round out the onsite amenities.
"The profile of the Graduate Hotel will stand like a beacon, marking the corner gateway to the Cornell Tech Campus," adds Snøhetta director and senior architect Michael Cotton.
The post Graduate Hotels Readies for New York Debut appeared first on Hospitality Design.