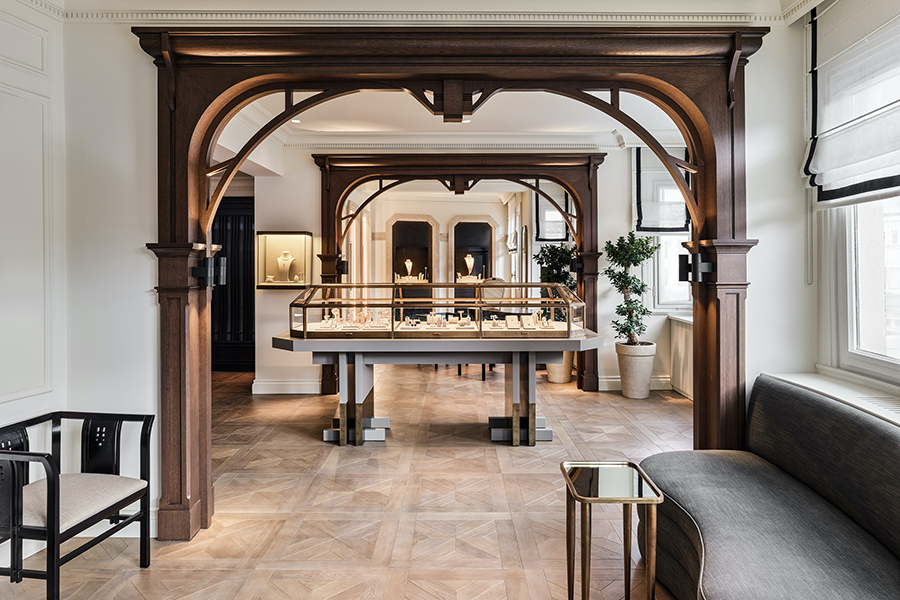 Multidisciplinary design firm Sanayi313 Architects has revealed its design of a new showroom for jewelry brand Melis Goral in Istanbul's Bebek district. The nearly 1,600-square-foot showroom occupies a former apartment in a historic residential structure characterized by double-height ceilings, large windows, and sprawling balconies.
"It's a rounded corner building with a unique geometry and beautiful, original architectural features, which acted as the main influence for the design," says Sanayi313 cofounder and creative director Enis Karavil. "With Picasso's studio in Cannes as a design reference, we emphasized woodworking throughout the entire showroom, from the ceilings to the marquetry flooring. "
Reminiscent of a salon, the warm, bright space is punctuated with Art Deco references that balance its historic details. Large symmetrical arches are newly clad with wooden frames to accentuate their proportions and more clearly define the showroom's different zones. A custom octagonal glass display framed in bronze welcomes visitors, with additional displays throughout anchored by a wooden base outfitted with drawers for extra storage. Beneath mirrored ceilings, a private room houses the showroom's diamond collection behind elegant glass cabinets installed atop gray carpeting. Additional elements, like the striking curvature of the consultation desk, demonstrate Sanayi313's signature balance of "maximalist expression in minimalist details."
More from HD:
Paris Studio RDAI Crafts New Hermès Store in Tokyo
Ellery Beach House Conjures Up a Retro Spirit
The Tokyo EDITION, Toranomon Brings the Drama
The post Historic Istanbul Apartment Reborn as Jewelry Showroom appeared first on Hospitality Design.