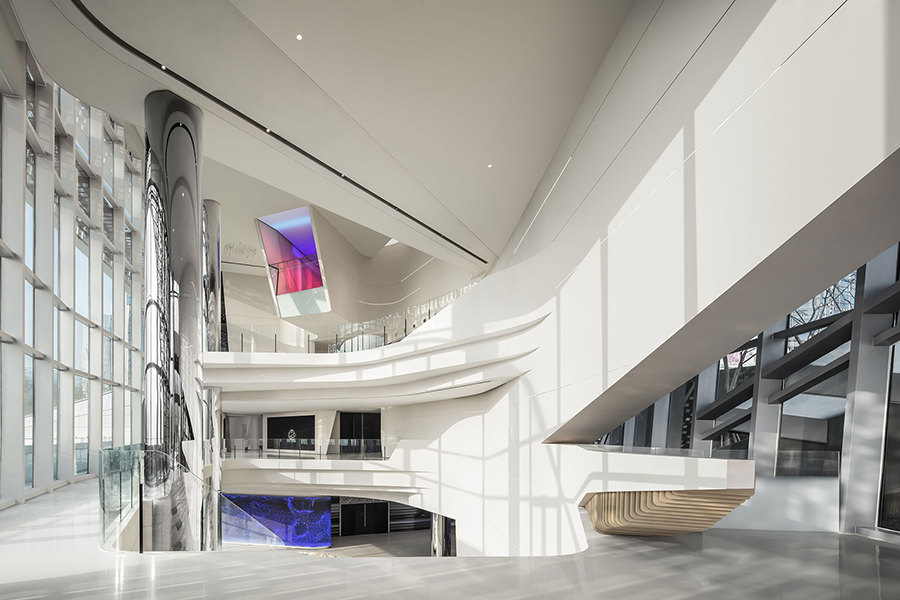 Shanghai-based MOD Architecture has unveiled its design of the new Park Reception Hall in Chongqing, China. From its concave shapes to its sprawling interior spaces, the sweeping contemporary concept draws inspiration from its mountainous setting while also referencing time, space, and people through a motif of three lines throughout the design.
"We wanted to establish a spatial relationship symbiotic with nature," says MOD founder Feng Weimo. "Chongqing's geographic features were taken as the design source, and the space and functions connected with a bionic skin, so as to realize the experience of seamless connection and natural transition in the reception hall, rather than the existence of separate spaces."
The Park Reception Hall is home to an array of multifunctional areas, including a dining hall, book bar, and exhibition space. Several observation areas were also created to maximize expansive natural views. Backward, overlapped steps and natural terraces highlight the spatial attributes of the project—with the 20-foot-tall arced stairs equipped to host a range of activity and programming.
A unique lighting design also animates the interior canvas, adaptable to match varying beats and intensities. Luminous geometric light fixtures simulate sunlight across the onsite swimming pool, while mirrors in the fitness center enlarge the space and ensure fluency.
The Luke Study Club is housed across the third floor and outfitted with a skylight composed of a luminous membrane and a ceiling of folded boards to support the multidimensional visual experience. Spatial blocks and bookshelves are also combined, with lighting interspersed among them. The sunken arc-light hall is also distinguished by its ceiling, which expresses a "waterfall of light" that conveys the light of civilization throughout human evolution. Stainless steel ceilings and polished black jade marble floors span the dining hall, which is accented by a dragon scale motif. A convex lens also acts as a partition between tables.
More from HD:
Pharrell Williams and David Grutman Open the Goodtime Hotel
Hotel Milla Montis Reinterprets Agricultural Vernacular
Studio Robert McKinley Crafts New Sant Ambroeus
The post MOD Architecture Designs Sprawling Multipurpose Volume appeared first on Hospitality Design.