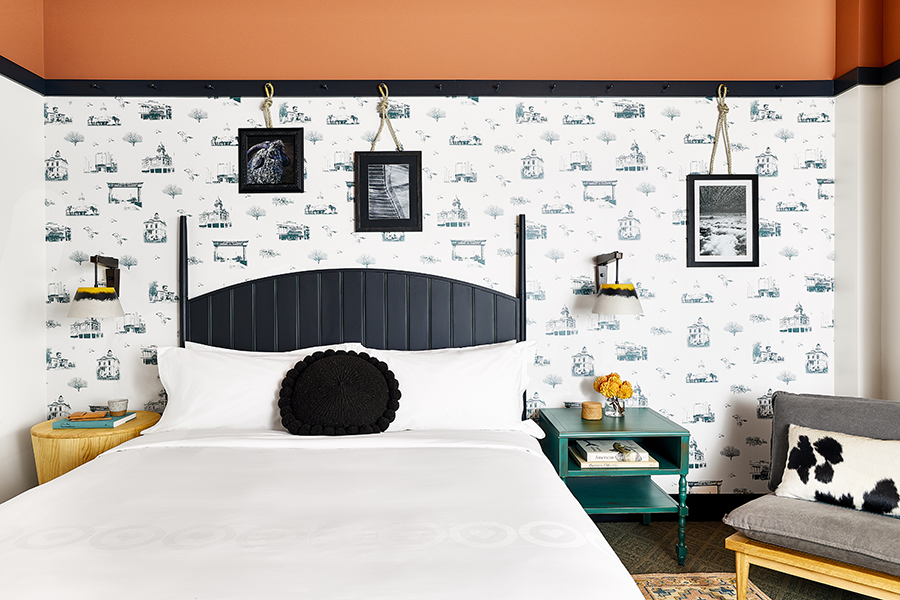 El Capitan, a JdV by Hyatt hotel, has opened in the heart of California's lush Central Valley in downtown Merced. Representing a Golden State original, the property, which once accommodated travelers en route to Yosemite National Park, has been reborn by San Francisco-based designer Nicole Hollis to honor the spirit of adventure and exploration on which the original site was founded. "We took cues from the city's ties to the railroad and the rich agricultural history of the Central Valley to inspire key design elements which are woven throughout the interiors," Hollis says.
Restored exterior signage serves as a beacon along the Main Street corridor heralding the rebirth of the site. A nearby 19th-century train depot was a key inspiration from the hotel's design, which echoes the historic vernacular. Artwork celebrating agricultural traditions of the region instill a deep sense of place, while an open-air courtyard, anchored by a custom bar set within a retrofitted horse trailer, serves a central social hub.
Included among El Capitan's three distinct F&B options is Native Son, a casual 30-seat café that evolves into a convivial bar in the evening. Signature restaurant Rainbird will open later this summer, along with the artisanal mercantile Bobby's Market. More than 3,000 square feet of meeting and event space rounds out the onsite amenities.
All 114 guestrooms are spread across the restored Arbor Lane wing and the newly constructed Main Street wing. The ethos of California's early frontier and the American West is channeled through the relaxed elegance of the eclectic design, which includes natural, handmade materials and textures reminiscent of the landscape. "Custom toile wallcovering in the historic guestrooms showcases the history of Merced, while the guestrooms in the new addition focus on the connection to Yosemite's natural beauty," Hollis adds. "Deep green ceilings and forest-inspired murals create a relaxed and cozy atmosphere, while the eclectic furnishings feel as though they have been collected and curated over time."
More from HD:
Five on Friday: April 9th, 2021
4 Eye-Catching Bamboo Architecture Projects
What I've Learned Podcast: Gary Dollens, Hyatt Hotels
The post Nicole Hollis Designs Hyatt's El Capitan Hotel appeared first on Hospitality Design.