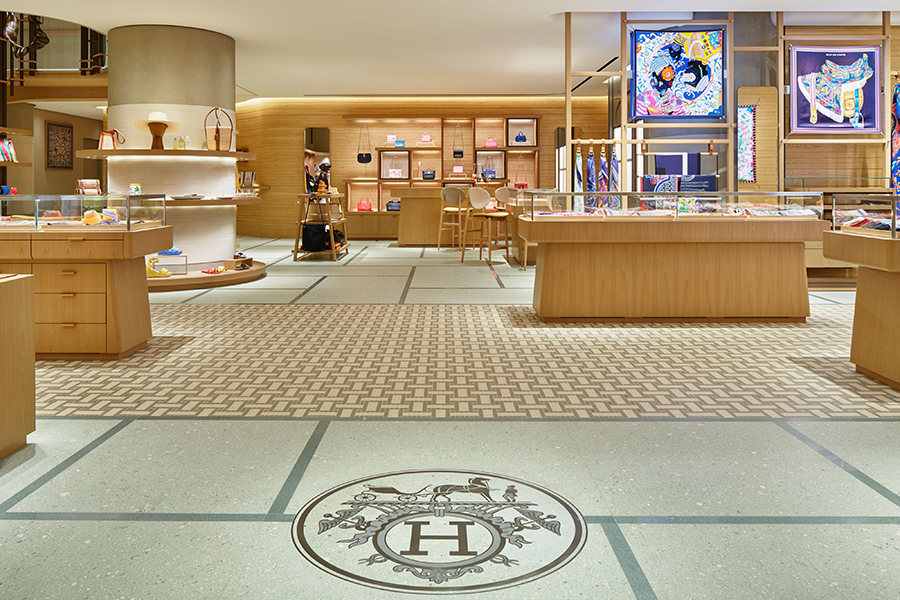 Parisian architecture and design studio RDAI has crafted the latest retail space for Hermès in Tokyo's Omotesando district. Spread across more than 5,000 square feet, the opulent freestanding store evokes a bamboo forest thanks to a façade clad in a grid of copper-toned stainless steel.
Inside, colorful silks are displayed alongside jewelry and cosmetics, while leather goods are showcased against a backdrop of wood panels and bamboo marquetry. Custom rugs sit atop stone-like floors laid out in patterns that channel tatami mats. Further, fluid curves accent the natural material palette.
As customers ascend the stairs, they discover a sculpture from bamboo artist Shoryu Honda that is inspired by the shape of clouds and the mobius strip. Indeed, the sweeping staircase is a standout. The organic shape of its vertical columns resemble tree branches, while the stairs call to mind pale green stepping stones. On the second floor, where the dressing rooms are located, mobile partitions give the illusion of transparency. Among the special objects created for the opening are a skateboard and surfboard, as well as a newly unveiled Hermès bike made of ash wood.
The post Parisian Studio RDAI Crafts New Hermès Store in Tokyo appeared first on Hospitality Design.