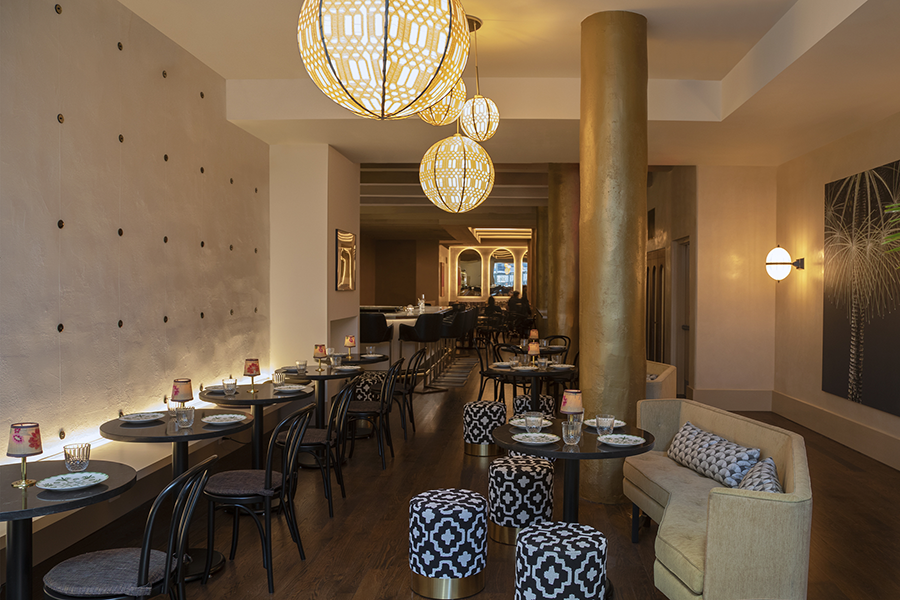 Actress and singer Priyanka Chopra Jonas has joined forces with chef Hari Nayak to launch New York's latest Indian concept, SONA, in Manhattan's Flatiron District. Inspired by Art Deco landmarks located across the globe—from Mumbai to Miami—designer Melissa Bowers of M.A. Bowers, Inc. crafted a distinctive "Indian Deco" identity for the new concept.
"I envisioned an interior that was timeless—not influenced by trends—and which would have an aura of the romance and elegance of the Art Deco era," Bowers says. "Our attention to details created a space that has many layers, and each time you go, you will be guaranteed to have a new experience."
A lounge area populated by small tables, bistro chairs, and a banquette lining the eastern wall greets guests upon arrival. Bone-colored plaster walls are punctuated by bronze-mirror medallions, serving as a backdrop for poufs upholstered in black and bone fabric. Reception is located along the western wall, which enlivens the Venetian plaster surface with a blushing hue of pink. "People look better against this color," Bowers adds. "It's a more late-night, sexy, softer tone."
Artwork by Indian artist Rajan Krishnan and a walnut door leading to the coat closet further animate this section of the restaurant, while walnut floors and gold-painted columns infuse a sense of warmth and a shimmering effect, while 10-inch-high baseboards further echo the Art Deco theme.
Topped with lilac marble, the bar is accented by a tower composed of polished brass and ribbed glass and surrounded by brass and leather barstools. The dining room, located just beyond the bar, is anchored by an eggplant-toned leather banquette. Armchair variations of bistro seating are also installed, while elegant arches along the back wall—a nod to the city's Metropolitan Opera House—act as a key focal point.
More from HD:
Le Pristine Restaurant Evokes Moody Opulence in Antwerp
4 Eye-Catching Bamboo Architecture Projects
What I've Learned Podcast: Marquise Stillwell
The post Priyanka Chopra Jonas Launches SONA in New York appeared first on Hospitality Design.