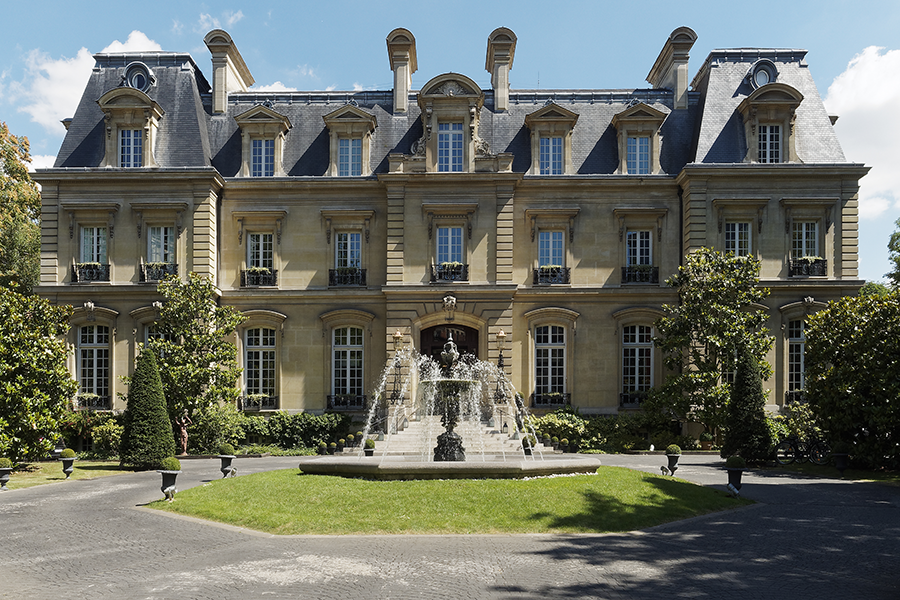 The Saint James Paris is slated to reopen this May following a thorough refresh by designer Laura Gonzalez. In addition to new public spaces as well as hotel flats created opposite the hotel, the updates reimagine the property through an ornate juxtaposition of texture and material.
"I wanted to reintroduce this unique place in Paris, where a timeless atmosphere floats in its Parisian Neoclassical architecture," Gonzalez says. "In the manner of beautiful Parisian townhouses, the hotel will evoke French 'art de vivre,' while blending masculine codes with the softness of clever feminine mixes of fabrics and colors."
Located in the 16th arrondissement, the hotel-club concept channels the romantic spirit of the city through a stately aesthetic reminiscent of a gentlemen's club. Frescoes stretch across 50-foot-long ceilings, while panoramic wallpaper, and floral and stripe motifs instill a sense of audacious intrigue. The contrast of custom "toile de Tours" fabric also serves as a key focal point throughout the interior, alongside bespoke furniture and plaster chandeliers fashioned by sculptor Patrice Dangel in every room. Through a simple color palette ranging from cream to celadon green, accommodations convey a chic residential quality.
A striking staircase elegantly anchors the lobby, while the bar-library evokes an English-style ethos through a materiality of velvet and woodwork as well as an understated lighting design. A newly created indoor-outdoor space is also home to a bar and a gourmet restaurant beneath a new pergola installed in the onsite gardens.
More from HD:
Pharrell Williams and David Grutman Open the Goodtime Hotel
Hotel Milla Montis Reinterprets Agricultural Vernacular
Studio Robert McKinley Crafts New Sant Ambroeus
The post Saint James Paris Undergoes Revamp by Laura Gonzalez appeared first on Hospitality Design.