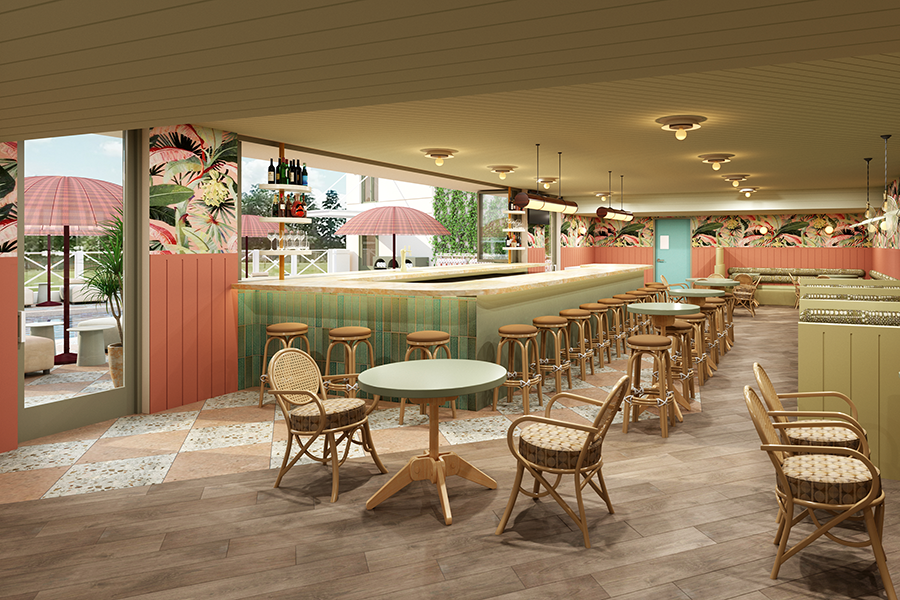 The Ryder Hotel is scheduled to arrive in Charleston, South Carolina's revitalized Historic District later this spring. Locally based studio Cortney Bishop Design is partnering with architecture firm Goff D'Antonio Associates to craft the modern boutique concept with a distinct exuberance and youthfulness inspired by the setting.
"The Ryder is more than just a hotel—it's a lifestyle destination with a good time state of mind," Cortney Bishop says of the 91-room hotel. "Visitors and locals alike can embrace their fun-loving, free-spirited side, while also seeking a haven to chill out and nurture genuine connections. We want all of our guests to feel a sense of belonging."
Warm earth tones and light-stained wood will punctuate the lobby along with bold artistic focal points. The color palette will promote a sense of calm in public spaces—including the lobby coffee shop and the lounge overlooking the café. A vintage ethos will permeate the lounge, which will be populated with mosaic tile, bespoke drapery, and banquette and sofa seating oriented around a large fireplace.
The onsite restaurant, Little Palm, will channel St. Tropez, as well as an effortless Southern cool with colorful tropical wallpaper, sorbet colorways, and vintage light fixtures. A range of seating will span the indoor-outdoor venue, including stools to accommodate both indoor and alfresco guests at the bar. Set against a backdrop of greenery and a custom palm tree art installation, the outdoor courtyard and pooldeck will function as the hotel's main social hubs. The pool's retro shape will be accented by a perimeter of custom daybeds easily rearranged into bench seating to create more openness.
Energetic, waterway-inspired carpeting will span guestroom corridors, guiding visitors to one of the hotel's 17 different guestroom configurations. Natural, environmental hues will accent custom features—from headboards and nightstands to desks and rugs. Totaling 1,045 square feet, the Hospitality Suite boasts an expansive living area, powder room, kitchenette, and private balcony.
More from HD:
3 Hotels Showcase the Power of Secondary U.S. Cities
Emeline Charms in Charleston's Historic District
Le Pristine Restaurant Evokes Moody Opulence in Antwerp
The post The Ryder Hotel Recalls Retro Southern Charm appeared first on Hospitality Design.