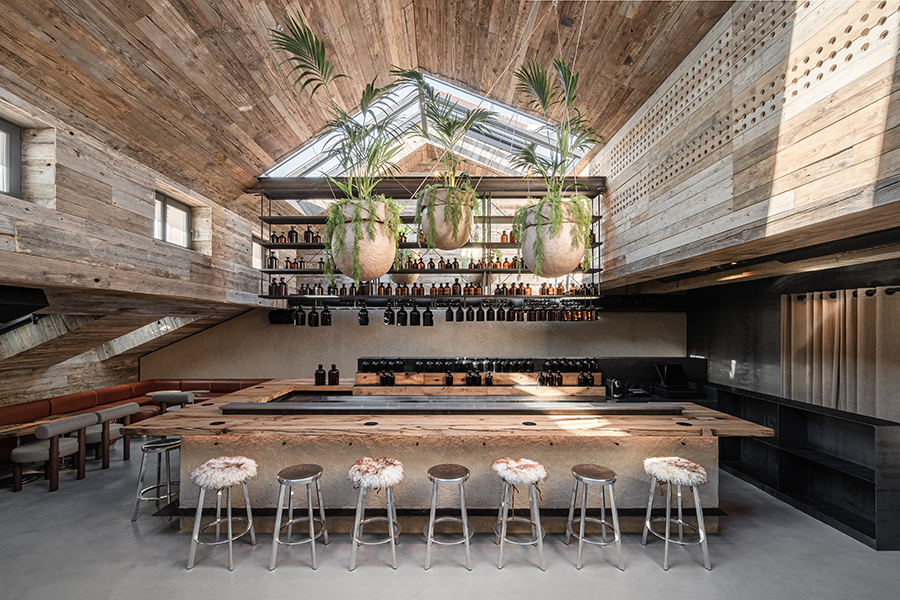 YOD Group has revealed its design for MAD Bars House, a six-story venue that houses five F&B spaces under one roof in Lviv, Ukraine. In addition to the rustic-yet-refined design, guests are enticed by a model that promises libations of increasing alcohol content as they ascend through the onsite bars and restaurants.
Interiors echo local culture and craft traditions via a palette of neutral colorways and natural materials. Shoe lasts sourced from the 19th-century building's previous tenant—a footwear workshop—were repurposed. The staircase landings are animated with mosaic pixel artwork that indicates the alcohol percentage served on each floor.
Varvar Pub occupies the ground floor with a wooden bar made from 150-year-old oak that was once used as timber joists. Win Bar awaits above, detailed with custom glass lamps, vintage Bauhaus chairs, and high shelving that showcases an international collection of wine bottles. A pendant chandelier modeled to resemble vine shoots illuminates the cozy dive as well. On the third floor, gastronomic concept Wona is defined by a pure and clean palette of light wood, wight tiles, and an open kitchen. A classic American-inspired bar, Buzz Bar is located on the fifth floor and lined with artistic carpeting and a sloping, relief steel ceiling. Finally, Molfar Bar provides an immersive mixology experience in a chamber-like environment accented with dark glass bottles, inviting lounge seating, and an open fireplace.
At the heart of the design, the fourth floor is home to a large-scale kitchen that supports each of the onsite eateries. "We have created not just a venue, but a new unique restaurant format. It is possible to adjust MAD Bars House to different scales, regions, and cultural features," says YOD cofounder Volodymyr Nepiyvoda. "It is a place where bar perfectionists that are mad about their work are gathered. Local, top-grade, uncompromisingly best."
More from HD:
18th-Century Kiev Mansion Transforms Into Restaurant Samna
The Tokyo EDITION, Toranomon Brings the Drama
Ego Hair Salon Explores the Overlap of Space and Nature
The post YOD Group Designs Six-Story F&B Concept in Ukraine appeared first on Hospitality Design.