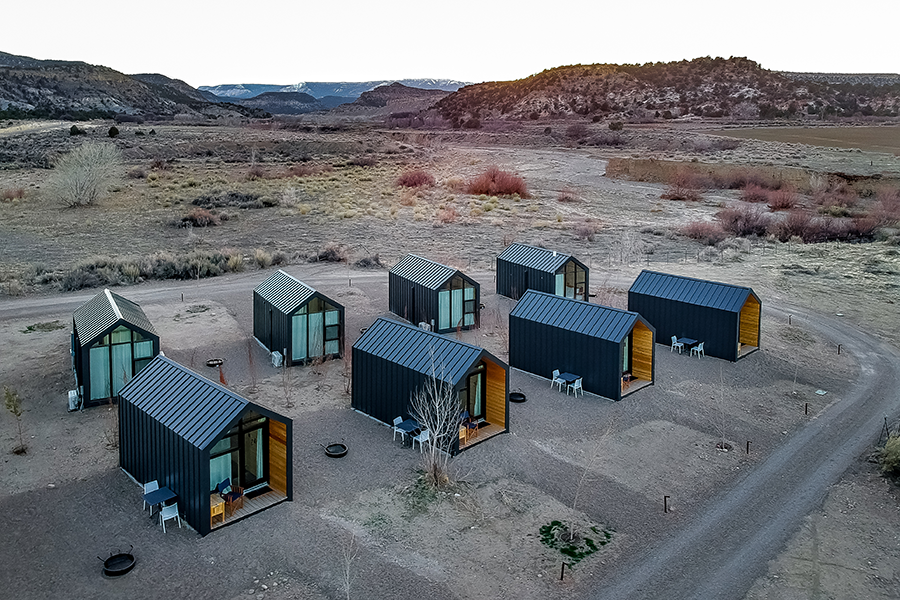 Inspired by the American road trip, hybrid resort operator Yonder has launched Yonder Escalante across 20 acres near Bryce Canyon National Park in Utah. ROY Hospitality Design Studio spearheaded the design of the outdoor retreat, which draws inspiration from its setting.
"Our design was made to accentuate Yonder Escalante's fundamental ethos of adventure and discovery, but also incorporate elements of elegance, comfortability, and nostalgia," says Yonder CEO Hannah Collins, who is also founder and principal of ROY. "Deeply valuing authenticity, we found it essential to integrate vintage and custom pieces that were representative of the property's history and the destination of Southern Utah as a whole. Escalante exudes a carefree energy that defines the Yonder experience, and we're excited for our guests to embrace that to the fullest extent."
The rugged getaway is characterized by a color palette of red, orange, brown, and blue with ceramics and artwork reminiscent of artist Donald Judd. Amenities including an open-air lodge, a spa-inspired bathhouse, general store, pool, drive-in movie theater, and abundant outdoor space promote community and engagement with the outdoors.
Included among Yonder Escalante's 32 accommodations are 10 vintage airstreams and 22 cabins. The renovated trailers echo a midcentury style with modern décor, hardwood floors, and eclectic furnishings. The 22 A-frame cabins boast trussless roofs, exposed birch plywood, and glass walls, while soft brown leather flooring, plush bercale bedding, linen curtains, and custom and vintage furniture complete the interiors. Additionally, 67 pull-in sites accommodate RVs.
The post Yonder Escalante Launches in Southern Utah appeared first on Hospitality Design.